Private Swim Lessons
Private swim lessons are available for any skill level and any age. Separate from group lessons, they are based on instructor availability and can be set up any time the WRC is open. Lessons are 30 minutes in length and set up in one participant to one instructor ratio. Children must be at least three years old to enroll.
Our private lesson program is available to family members of UNI students, faculty, staff and alumni. Our private lesson program is not open to the general public.
Want more information regarding private lessons? Please contact swimlessons@uni.edu and get added to our distribution list!
UNI Recreation Services App
For more information regarding all Recreation Services has to offer, download the Recreation Services on the Apple App Store or the Google Play Store.
Feel free to purchase for packages on-the-go on your smart phone!
Interested?

How to create on account on Fusion Registration: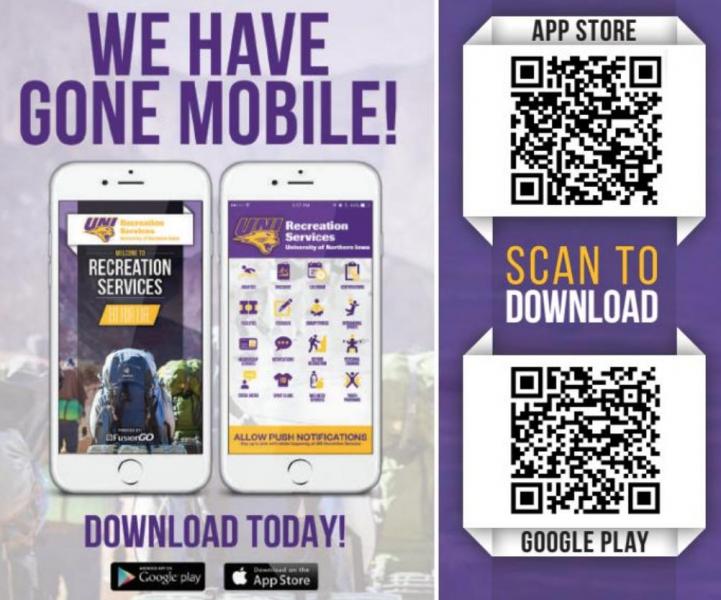 Weather Policy
If lightning is detected within an eight-mile radius of the Wellness/Recreation Center (WRC), the Recreation Services professional staff, student facility manager or Welcome Desk supervisor will inform patrons in the pool areas of the pending storm (e.g., the lifeguards, swim lesson instructors, aquatic supervisors, swim lesson parents/guardians, swim lesson patrons and group fitness aquatic class participants/instructor). Once pool patrons have been informed of the lightning situation, they will have the option of leaving the pool(s) or to continue to swim at their own risk. If patrons choose to leave the pool, they should not use showers or land line telephones..

If a severe weather warning is received from the UNI Police or another reliable weather source indicating a severe thunderstorm/tornado is present in the area and patrons should take cover, WRC patrons will be evacuated to a safe zone(s). The lifeguards, swim lesson instructors, aquatic supervisor and/or group fitness class instructor will instruct patrons to leave the pool and take shelter in the pool locker rooms. Once an all clear is received, patrons will be allowed to return to the pool(s).

You may choose to call the WRC prior to driving to the building if you are coming for swimming lessons. Please call the main welcome desk at 319-273-2413 for information concerning lessons and severe weather closures. Unless there is a severe weather warning, we will stay open for swimming lessons! 
Fees

UNI Students, Staff, Faculty & WRC paid users

1 child (1 lesson for 30 minutes)
$18/lesson
2 children (2 separate 30 minute lessons)
$36/back-to-back lessons

UNI Alumni

1 child (1 lesson for 30 minutes)
$20/lesson

2 children (2 separate 30 minute lessons)

 

$40/back-to-back lessons